May 31, 2023
SandTech Solutions Supports Destination College Success
SandTech Solutions was a proud supporting sponsor of the San Antonio Education Partnership's recent celebratory event on May 19th, 2023. The Destination College Success event celebrated the successes of past and present college students who have benefitted from the resources provided by the San Antonio Education Partnership (SAEP). SAEP provides students, both youth and adults, free resources to access higher education. These services include goal setting, college entry, enrollment, financial aid, and more. Services are provided to students through various high schools as well as the downtown landmark, Cafécollege.
SandTech Solutions headquarters staff attended the breakfast event at UTSA's Buena Vista Theatre and were able to hear from a panel of students and supporters of SAEP's mission. Panelist and speakers included U.S. House Congressman Joaquin Castro and San Antonio First Lady Erika Prosper Nirenberg.
To learn more about the work of the San Antonio Education Partnership, visit www.saedpartnership.org.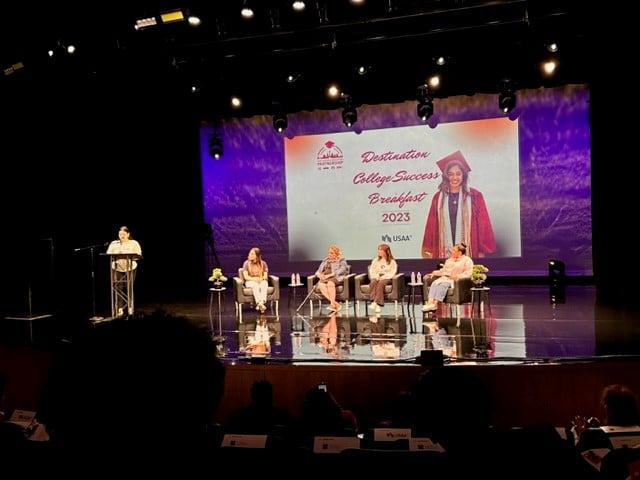 SAEP Panelists discuss how the partnership has impacted their higher education attainment.